Ashlie Beiter
Account executive
Hometown: Corpus Christi, TX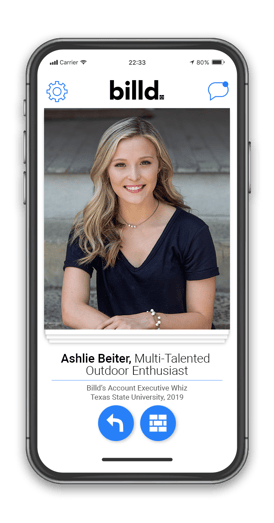 Dog person or cat person? Why?
Dog, I am very allergic to cats.
What do you do at Billd?
I help contractors with their first purchase with Billd.
What is your favorite part of your current role?
I love the feeling of helping people grow their business.
What makes Billd Special?
The people that work here.
What does your typical day look like?
I spend a lot of my day communicating with contractors about their upcoming projects, and how Billd can help them.
What's something new you've learned since being at Billd?
I have learned that contractors face many challenges when trying to purchase materials.
Give us your 30 second elevator pitch?
Billd allows contractors to take on more projects to grow their business, while offering them 120 day terms.

What are 3 words you'd use to describe yourself?
Thoughtful, Friendly, and Persistent.
Give us 3 fun facts about yourself that your coworkers may not know about you.
I know how to fly a plane.
I have won an offshore fishing tournament.
I one time rescued a goat.
Describe each of your co-workers in three words.
Russ- Cult leader

Ginger- Remodel

Jessie- The owner of the best dog

Chris- Jokester

Alex- Aggie

Placa- Genius

Mikayla- Cheerful

Max- Helpful

Katz- Energetic
What would you do with a million dollars?
Travel
What's your all-time favorite memory?
Adopting my dog.
What are you binge-watching right now?
The Good Place
What's #1 on your bucket list?
Dive at the Great Barrier Reef.
What can't you live without?
My dog and my inhaler.
What makes you happy?
Coming home to my dog after a long day.