Mikayla Dorn
Account executive
Hometown: Corpus Christi, TX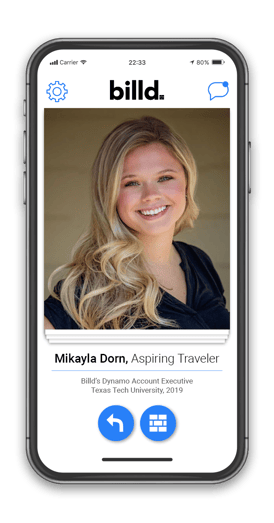 Dog person or cat person? Why?
Dog person, I think cats are great too, but they don't put up with cuddling.

What do you do at Billd?
I inform contractors on who and what Billd is and help them with their initial purchase with us.
What is your favorite part of your current role?
I love being able to communicate with contractors daily who let me know how amazing our service is.
What does your typical day look like?
I am calling and answering calls from contractors throughout the day to manage their accounts/purchases. I am in constant communication with the contractors that have enrolled on our website and am informing them on who and what Billd is.

What is your favorite part about working at Billd?
The innovative and constant want to help mentality.
What are 3 words you'd use to describe yourself?
Creative, Ambitious, Generous

If you could have dinner with anyone (dead or alive) who would it be?
Reese Witherspoon

Who is your inspiration?
My Father
What would you do with a million dollars?
Live on a bus, and travel around the world!
What's #1 on your bucket list?
Going to Greece!
What are you binge-watching right now?
Black Mirror
What can't you live without?
Doggies
What makes you happy?
Friends, Family and Doggies.
What behavior or personality trait do you most attribute to your success and why?
My determination to succeed at everything. Even if I don't like something, I first have to succeed at it before I can simply say I don't like it.